Cover: Kim Kardashian's Wild West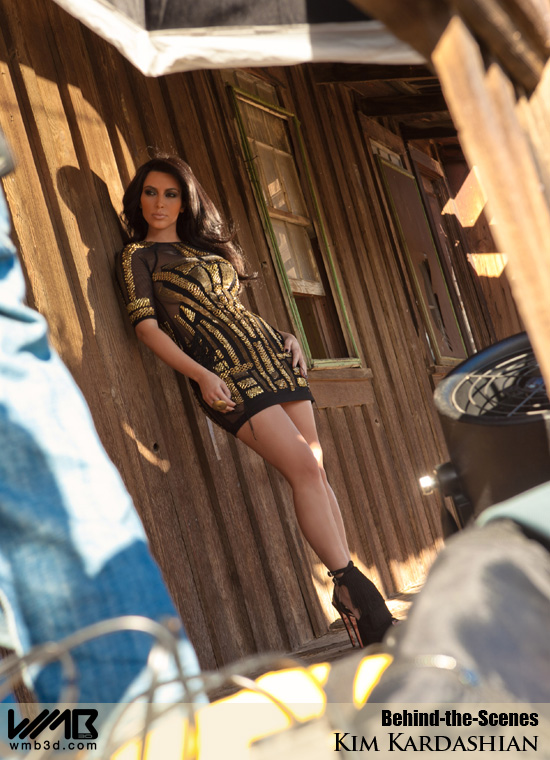 Photographer Nick Saglimbeni had been trying to get Kim Kardashian out to the desert for years. And finally, just in time for our premiere cover shoot, the stars aligned and she agreed to let us drag her out to the middle of nowhere.
The shoot was not an easy one: the crew fought strong desert winds throughout the day, while the stunning mogul-slash-cover-girl braved the blazing sun, long hours, and aggressive splinters from old wooden porches. But Kim powered through like a champ, and we ended up with a history-making shoot.
WMB 3D is proud to have Kim Kardashian as our inaugural cover celebrity—making her our Marilyn Monroe. She embraced the apocalyptic shoot concept with incredible enthusiasm. Here's a snippet of her interview from Issue 1 of World's Most Beautiful:
WMB: What would you say to women around the world who feel that they don't fit mainstream standards of beauty?
KIM: I don't think that I do either, and I love that. Being stick-skinny is not something I strive for. I'm all about being healthy and being in shape. My sisters all have very different body types, and we're all happy with who we are. It's not about having the perfect shape, it's about finding the best you and being your best no matter what. You should never try to fit someone else's mold. Anyone can be beautiful.
WMB: Is the face of beauty changing again?
KIM: Absolutely, and it's about time. There is definitely a Middle Eastern explosion happening right now, and I love that I can be even a small part of it!
See Kim's full 13-page 3D spread in Issue 1 of WMB 3D!
CREDITS:
Photography by NICK SAGLIMBENI
Make-up by JOYCE BONELLI & MARIO DEDIVANOVIC
Hair by CLYDE HAYGOOD
Wardrobe Stylist MONICA ROSE
Production stills by JOYCE PARK, DEREK ESKRIDGE & DAVID RIVERA for SlickforceStudio